Boss GE-7 Guitar Equalizer Effect Pedal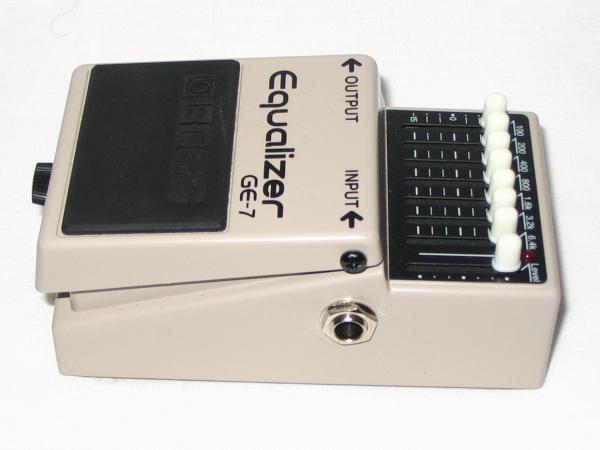 Features:
7-band active equalization for guitar
+/- 15 db boost/cut on all bands
+/- 15 db boodt/cut level output
Extremely quiet operation
Transparent sound
Excellent cosmetic and working condition, no issues!
Unit ships with and includes:
Original manual and documentation
Original box
New 9V battery (in addition to the one in the unit)
Controls / Connectors:
Instrument input
Instrument output
9V DC power input
On/off footswitch
On/off indicator lamp
100 Hz, 200 Hz, 400 Hz, 800 Hz, 1.6 KHz, 3.2 KHz, 6.4 KHz level sliders
Output level slider
Photos:
Click here to scroll down
Details:
I purchased this pedal (in 2003) to use as an uncolored lead booster for a few upcoming guitar gigs. I was playing through my friend's Marshall which had a nice distortion tone already, and I wanted something "unobtrusive" for accentuating the lead parts. It hasn't received much use since then.
This (or any other) guitar EQ is sort of the forgotten, unsung hero of effects pedals. The GE-7 allows a lot of tone-shaping flexibility, and it doubles as a tone problem solver in the signal chain. You can radically alter your fundamental tone without introducing any distortion or other artifacts. If you are looking at this auction, you probably already know what this pedal can do -- so please pardon the next section...but just in case...
A few possible uses of the GE-7:
Uncolored solo boost, accentuate certain frequencies
Overdriving a tube amp input stage
Increasing the output signal to improve S/N performance down-chain
Reducing the output signal to prevent overdriving down-chain devices
Tone shaping way beyond an instrument's tone controls
Metal scoop -- put the sliders in a "V" shape, instant metal tone
Notching out feedback for acoustic or electric guitars
This pedal is quiet and definitely is not a "tone sucker". With all sliders in the 0 db positions, the guitar signal (tone, level, etc.) remains almost unchanged between switching the pedal on and off.
Standard Boss construction and sound quality. Built to take abuse. Cosmetically excellent, no issues, works great!
Check out the "Links" section below for more information about the GE-7.
Please review the photos below carefully and contact me if you have any questions.
Photo Gallery
Click on a thumbnail to view the full-size image in a new browser window
Some full-size images may exceed your browser's dimensions
Please hover over the large images and click on the expand tool ( or ) if it appears
Pedal ships with a new 9V battery.
Why am I selling? Well, mostly financial and time considerations. I don't have much time to play guitar anymore. When I do play out, it is only on bass and even that doesn't happen very often. As they say, I am "thinning the herd" and minimizing the gear I have on-hand to the bare essentials. This is probably one of those pedals that "no guitarist should be without". If I played guitar on a regular basis, I would definitely keep it.
Anyway, my loss is your gain. At $1 starting and NO RESERVE, you can't go wrong! Current new retail price is around $99.
Thanks for looking! If you have any questions, please drop me a line. Also, please read the Terms, Shipping, Contact, Feedback section below before you bid. Some of it sounds serious, but it's just the usual stuff including some specific info relevant to this auction.
Links:
My Other Auctions:
1990 Fender American Telecaster - Made in USA
Seymour Duncan / Lace Sensor Pickups Pre-Wired Fender Strat Pickguard
Pro Co Turbo RAT Guitar/Bass Distortion Effect Pedal
Pro Co 50' Balanced XLR Microphone Cable
5 Tube Lot: NEW 12AT7EH, CBS 12AT7, Carvin 12AX7A, Tube Works 12AX7, W. Germany 12AU7
Monster Cable Twist Crimp Toolless Speaker Cable Connectors - Angled Gold Pin
6 Port Netgear EN106TP 10Base-T 10 Megabit Ethernet Hub
Terms, Shipping, Contact, Feedback (Please Read):
This is a NO RESERVE, NO "Buy it Now" auction. I normally do not terminate an auction early and I will definitely let the auction go to completion (i.e. finish normally) if the bid price is low.
This item was described with as much accuracy and detail as possible. Images shown are of the actual item up for auction unless otherwise noted. Opinions and subjective observations reflected in the auction listing may not match your own. I cannot offer refunds or returns for my auction items.
Please contact me with any and all questions before you bid. Please don't bid unless you intend to follow through. If you have any problems with the terms of this or any of my other auctions, please contact me about it before bidding.
Please use the postage rate calculator at the bottom of this auction to determine your shipping cost. Shipping will be, depending on your location, between $3.95 to $6.00 USD for USPS Priority Shipping within the United States ONLY. I will insure your package for the purchase price of the item at no cost to you. I ship with a delivery confirmation (if applicable to the carrier) and I will email the delivery confirmation/tracking number once the item ships.
I charge actual shipping costs. The figure quoted above is a reasonable estimate given the weight of the item and the dimensions of the box. I will let you know how much your item cost to ship after it has been sent. If you overpaid, then I will issue you a refund for your overpayment amount via PayPal or by personal check -- your choice. If you have underpaid, then I will eat the cost. I believe this is a pretty fair deal. I am a regular Joe -- I have to package and ship the items myself. I hate feeling gouged for shipping costs too!
Shipping carrier, carrier options, etc., are generally non-negotiable -- unless you want expedited delivery. I have haggled with several bidders post-auction about a few dollars (or less) difference between First Class vs. Priority, UPS Ground vs. FedEx Ground vs. Parcel Post, etc. I choose the most cost effective way of getting the item to you as quickly and as safely as possible. Depending on the package size, the slowest shipping method may not be the cheapest. Again, if you have overpaid for shipping, please see the previous bullet point.
Most items ship within one or two business days.
I accept payment via PayPal, money order, cashiers check, and personal check (though your check will have to clear.) My preference is for PayPal. I do not charge you for my PayPal transaction or auction fees -- some sellers may.
Local (Eugene, OR) pickup of the item is available, though I will not have the facilities to demo the item for you, and my schedule varies. Please contact me if you are interested in local pickup.
Please send any questions about this auction to me through eBay's "Ask seller a question." I will contact you following the completion of the auction so please make sure that you can get my email. My address is:

You may want to trust this address in your spam/bulk filter folder, or at least look for it in your junk mail if you haven't heard from me post-auction. More often than not, legitimate email ends up getting marked as spam. Some folks have an aggressive "delete-on-flag" type of filter which can present a lot of communication problems.
I give positive feedback immediately upon receipt of payment. If you paid, you get positive feedback from me.
I have been an ebay member since 1998. Bid with confidence.
Click here to go back to the top