Monster Cable Twist Crimp Toolless Speaker Cable Connectors - Angled Gold Pin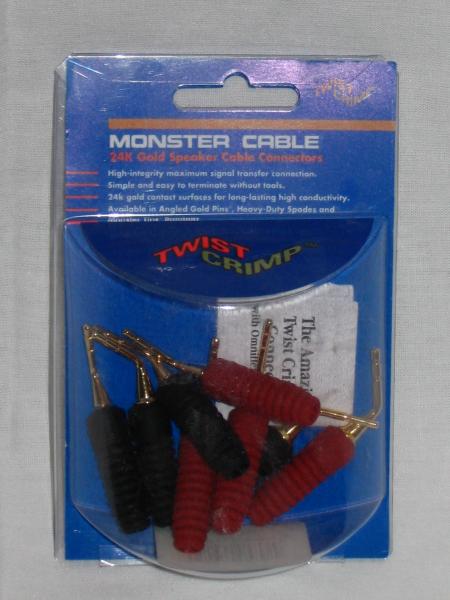 Features:
Toolless speaker cable connectors, NO CRIMPING
Gold-plated, solid machined construction -- use over and over
60-degree angled pins, reduces cable stress, for confined spaces
Works with pin terminal connectors and multi-way combo connectors (like on speaker or receiver back)
Supports up to 14/12 gauge conductors
4 pairs, red and black rubber jacketed
Includes instruction sheet and original packaging
Details:
I got these Twist Crimp connectors to terminate (14 ga.) speaker wire in a home stereo application. According to the Monster website, this product will work with "12/14 ga." -- I can't verify that it will work with 12 gauge cable but I don't see why not. It will, of course, work with smaller gauge cable too. These terminators worked well but I no longer have a use for them so I am putting them up for auction. They were installed once and have been sitting unused for well over a year. They look "as new."
These are of a crimpless design, and built quite solidly. You can re-use them without any issues or wear. Basically, you "screw" the connector onto the cable. The interior of the terminating connector is threaded inside. It's pretty easy to do, but please note that if you use cable with a slick dielectric insulation sheath inside, you will have to pinch the cable tightly with your fingers so that the cable will not rotate inside its jacket. That's really the only "gotcha." Standard speaker cable or lamp cord will generally be immune to this issue. When done right, the speaker cable will not fall out even under strain and you will have a solid connection. The best thing about a crimpless design is if you mess it up, you can always try again! Those who are fans of a clean installation will definitely like these connectors.
Please make sure that these narrow diameter pins will work in your application. These are not banana connectors, but they will fit in a multi-combo connector that accepts bananas and bare wire. Basically, this product should work in any female connector that accepts bare speaker wire.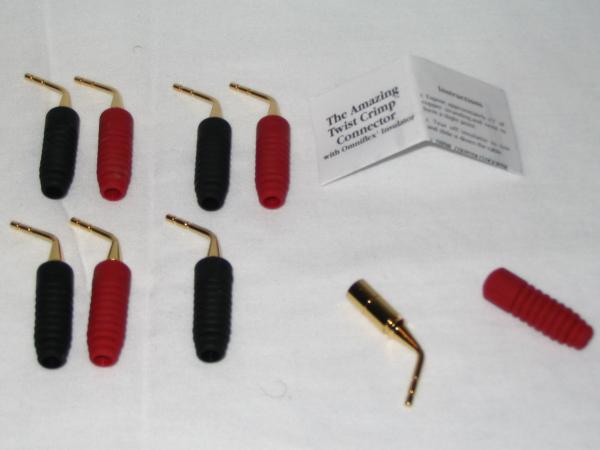 $1 starting and NO RESERVE. Current new retail price of this item is $14-15.
Thanks for looking! If you have any questions, please drop me a line. Also, please read the Terms, Shipping, Contact, Feedback section below before you bid. Some of it sounds serious, but it's just the usual stuff including some specific info relevant to this auction.
Links:
My Other Auctions:
1990 Fender American Telecaster - Made in USA
Seymour Duncan / Lace Sensor Pickups Pre-Wired Fender Strat Pickguard
Pro Co Turbo RAT Guitar/Bass Distortion Effect Pedal
Boss GE-7 Guitar Equalizer Effect Pedal
Pro Co 50' Balanced XLR Microphone Cable
5 Tube Lot: NEW 12AT7EH, CBS 12AT7, Carvin 12AX7A, Tube Works 12AX7, W. Germany 12AU7
6 Port Netgear EN106TP 10Base-T 10 Megabit Ethernet Hub
Terms, Shipping, Contact, Feedback (Please Read):
This is a NO RESERVE, NO "Buy it Now" auction. I normally do not terminate an auction early and I will definitely let the auction go to completion (i.e. finish normally) if the bid price is low.
This item was described with as much accuracy and detail as possible. Images shown are of the actual item up for auction unless otherwise noted. Opinions and subjective observations reflected in the auction listing may not match your own. I cannot offer refunds or returns for my auction items.
Please contact me with any and all questions before you bid. Please don't bid unless you intend to follow through. If you have any problems with the terms of this or any of my other auctions, please contact me about it before bidding.
Shipping will be $1.00 USPS First Class Shipping within the United States ONLY. Shipping insurance is not available for this item. I ship with a delivery confirmation (if applicable to the carrier) and I will email the delivery confirmation/tracking number once the item ships.
Shipping carrier, carrier options, etc., are generally non-negotiable -- unless you want expedited delivery. I have haggled with several bidders post-auction about a few dollars (or less) difference between First Class vs. Priority, UPS Ground vs. FedEx Ground vs. Parcel Post, etc. I choose the most cost effective way of getting the item to you as quickly and as safely as possible. Depending on the package size, the slowest shipping method may not be the cheapest. Again,
Most items ship within one or two business days.
I accept payment via PayPal, money order, cashiers check, and personal check (though your check will have to clear.) My preference is for PayPal. I do not charge you for my PayPal transaction or auction fees -- some sellers may.
Local (Eugene, OR) pickup of the item is available, though I will not have the facilities to demo the item for you, and my schedule varies. Please contact me if you are interested in local pickup.
Please send any questions about this auction to me through eBay's "Ask seller a question." I will contact you following the completion of the auction so please make sure that you can get my email. My address is:

You may want to trust this address in your spam/bulk filter folder, or at least look for it in your junk mail if you haven't heard from me post-auction. More often than not, legitimate email ends up getting marked as spam. Some folks have an aggressive "delete-on-flag" type of filter which can present a lot of communication problems.
I give positive feedback immediately upon receipt of payment. If you paid, you get positive feedback from me.
I have been an ebay member since 1998. Bid with confidence.
Click here to go back to the top